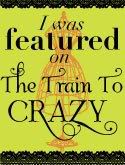 Good morning y'all! Hope everyone is having a great week. I was reading through my blogs last night and was so excited to see that Andrea at
The Train To Crazy
featured me yesterday on her weekly "Make It Wear It Thursday" for my Burda Peplum outfit. Go
HERE
to see it! Thanks so much, Andrea! :)
By the way, Andrea has an awesome blog that has been one of my go to blogs since I began my adventures into sewing! She's so sweet, and leaves the nicest comments! :)
My mom and I had a blast on Monday at Creative Sewing and at Joanns! Got a few goodies for some sewing projects, and had a yummy lunch. She was so excited to spend time with Reagan (and me, I think... lol). When we were out, I got the fabric to do the binding on my tablecloth quilt. When I got home, I got the fabric washed and my binding strips cut. Then, on Tuesdsay, I worked hard to get the binding done and on and my quilt finished.
Here it is.. my
first
quilt.
Definitely not perfect but I really am proud of it. Again, entirely self taught on this...but lots of blogs helped me get there. The places that were of the most help to me:
1.
Pile o' Fabric
2.
Diary of A Quilter
3.
Stitched in Color
4.
Red Pepper Quilts
5.
Fresh Lemons
I used Violet Craft Madrona Road Wild Carrot Tangerine for the whole cloth part. I added the two side panels in Kona Cotton White, and the backing and binding is also made of Kona White Cotton. I did a sort of free motion quilt stitching, and mimicked the pattern of the flowers.
Things I learned doing this:
a. I need to use basting spray because pinning didn't work for me so hot
b. I desperately need a rotary cutter and rotary board because this girl can't cut straight
c. I need to use my walking foot the whole time--I ummm, kinda cheated and used the clear open foot to I could see the fabric better since I sort of free motion quilted
d. how to do binding (because I didn't do it the "right way" with this one but I'm pleased with how it looks nonetheless)
But, all told, not too shabby for my first quilt and it looks amazing as my tablecloth. Especially layered with my Williams and Sonoma table runner. What do yall think?
I've definitely bitten the quilting bug, however, as I already started my next quilt (have 16 blocks done already) AND I joined in on a Quilt A Long/Sew A Long. There's a button on my side bar for the quilt/sew along... it's basically celebrating a fabric/designer named Tula Pink (yup, I highlighted her newest fabric line yesterday, "The Birds and the Bees"). I'm being very adventurous with this... because I designed my own quilt pattern. Say what? Yup. I drew it all out and have it all mapped out. Who knows if I'm doing it "correctly" but I think it'll work. No, scratch that... I
know
it will work because I will make it work. :)Just like with my quilt above. Sometimes you just have to channel your inner Tim Gunn and make it all work.
Take care yall and have a great weekend! :)