Good morning yall!! Happy fall!!! Doesn't really feel like that here in South Carolina but Saturday marked the first official day of fall! we spent Saturday with hubby's family in Augusta, celebrating his grandmother's 97th birthday. Pretty incredible. They were, of course, so excited to see little miss Reagan and how much she is changing and growing.
I wanted to share with yall a little blogland group that I'm joining in. Kelsey, over at
Kelsey Sews
is hosting the 100 Day Hustle. You see, September 22nd also is exactly 100 days to the end of 2012. WHERE DID THIS YEAR GO? Seriously.... I have no idea where this year has flown off to. So, to help us all get our to-do crafting and other projects done, she's sponsoring a linky group. :) Fun times.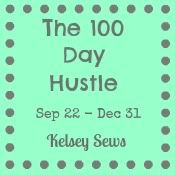 I decided to join in and create my own list of things that I have left to do on my to do list...
1. Finish my lemon bars quilt from Fresh Lemons
2. Finish my Tula Pink quilt
3. Make a dress for a wedding we're attending in October
4. Reagan's Christmas dresses (probably 2, but maybe a 3rd one)
5. Finish up our Christmas stockings (
soooo close to being done)
6. Reagan's stacking blocks for Christmas gift
7. Reagan's quiet book for Christmas
8. Alphabet softies for Reagan's birthday
9. Finish my white cardigan
10. Gray Burda dress
11. quilting bee blocks (now that I'm in two... YAY!!)
12. last pillow for the living room
13. make 2 other garments for me
14. Reagan's birthday dress and accessories
15. one other project (
it's a surprise)
16. Megan Nielsen's Banskia Top for the sewalong
17. chalkboard frame project
18. re arrange kitchen cabinets (aka Reagan proofing)
That doesn't seem so bad but I also have sewing ADD... I get distracted and often seem to start multiple projects along the way. This might account for the reason why my WIP basket is almost always full. Yikes.
Anyways, any one else starting planning for Christmas yet? I'm definitely heading down that road. It's Reagan's first Christmas, and while I know that she won't remember it, I will remember it. So it has to be special. :) Just like her birthday, which is shortly after Christmas. Did I mention I've already started planning that, too!
Oh, and just a little fabric eye candy... This collection just came out and it totally screams me! I love love LOVE it. Sigh. If only it wasn't so much. Isn't it just gorgeous? Enjoy!
Simply Color found HERE