Good afternoon yall! Sorry it's been so quiet this week for me on blogland. I've definitely been busy but just hadn't had time to sit down and blog.
On a personal note, still no word on the job that I interviewed for last week. They told me that I should hear sometime this week so I didn't really expect to hear on Monday or Tuesday. I personally think I'm a long shot for it but we'll see. I learned a lot from doing the interview and it felt so good to be working with kids again. :)
We were up in Richmond, VA over the weekend for a friend's wedding. We left little Reagan with my parents for the weekend. First time we'd left her overnight, and I think it went well. I know my parents LOVED having her for the weekend... and I did pretty good. There might have been a few tears on Friday night, but after that, no problem! I was definitely ready to pick her up on Sunday.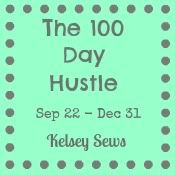 I wanted to share with yall my updated progress on my 100 Day Hustle list. If you don't remember, Kelsey over at
Kelsey Sews
, is hosting a 100 Day Hustle to help all of us get our stuff done before the end of the year! You can go
HERE
to read my original post on it.
This is my hustle list:
1. Finish my lemon bars quilt from Fresh Lemons
There are 6 kinds of blocks for this, totally 144 blocks. I have one full set of blocks left to make.
2. Finish my Tula Pink quilt
The top is all done, the backing piece is almost all done, and the binding is made. Ready to go on this one, just gotta sit down and get going.
3. Make a dress for a wedding we're attending in October
4. Reagan's Christmas dresses (probably 2, but maybe a 3rd one)
Decided to do one dress and one pair of fun Christmas pants. Fabric picked for the dress, as well as the pattern.
5. Finish up our Christmas stockings
6. Reagan's stacking rings for Christmas gift
Fabric picked out and ready to go.
7. Reagan's quiet book for Christmas
hahahaha not even started yet. Yikes.
8. Alphabet softies for Reagan's birthday
9. Finish my white cardigan
10. Gray Burda dress
11. quilting bee blocks:
Color Bee Nov
, Color Bee Dec, Simply Modern Nov, Creative Blocks Nov, Creative Blocks Dec.
12. last pillow for the living room
13. make 2 other garments for me
14. Reagan's birthday dress and accessories
15. one other project (
it's a surprise)
Making really good progress on this one.
16. Megan Nielsen's Banskia Top for the sewalong
17. chalkboard frame project
Honestly, not sure if this one'll get done since I decided to add something else. Maybe I can just replace this one???
17. B. Making Christmas stocking holders.
18. re arrange kitchen cabinets (aka Reagan proofing)
I think I'm making great progress with these goals. My goal over the next few days is to make my Banskia top and to do the last pillow for our family room, plus work some more on my Lemon Bars blocks. Today, I finished up the Christmas stockings. Yall.... I love love LOVE them. Seriously. I cannot put them away in the Christmas box because I like looking at them. My mother in law got me the tops several weeks ago, and I just hadn't sat done to get them finished up.
I used coordinating fabric from Creative Thursday's Santa Claus is Coming to Town line. I love that they all coordinate together. I then used some kona red fabric and some burlap type fabric for the cuffs, and some leftover ribbon for the little hooks to hang them. I switched out the toes on all of the stockings. Reagan and my stockings both have bows on them. Had to girly them up a little bit.
There is something so special about things you make for yourself. My mom made all of our Christmas stockings (and made Edmund and Reagan ones this year). It means so much more when it's made with love.
Take care yall!!