Hey yall! Taking care of business today. The Traveling Stash Giveaway Winner is.... drumroll please...
Comment #3 was Lori at
Sew French
!Congratulations! :) Please email me with your address and I'll get it out to you in the mail asap! By the way, she has a great blog! Yall should check it out!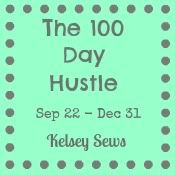 Today marks the halfway point for the 100 Day Hustle to the end of 2012. So, to celebrate and see where we are all at, Kelsey at
Kelsey Sews
is hosting a linky party ...
Here's my list:
1. Finish my lemon bars quilt from Fresh Lemons
All blocks are completed and squared done. I've started piecing them together.
2. Finish my Tula Pink quilt
Quilting is halfway done... hoping to finish up today and tomorrow
3. Make a dress for a wedding we're attending in October
4. Reagan's Christmas dresses (probably 2, but maybe a 3rd one)
Christmas dress made (not blogged) and pants are started
5. Finish up our Christmas stockings
6. Reagan's stacking rings for Christmas gift
Fabric picked out and ready to go.
7. Reagan's quiet book for Christmas
hahahaha not even started yet. Yikes. In all honesty, this might get replaced by a different project, too. See...distracted sewist.
8. Alphabet softies for Reagan's birthday
started picking out fabrics
9. Finish my white cardigan
10. Gray Burda dress Replacing this with the Weekender Bag
pattern picked out, fabric picked out and outside panels are pieced. Gotta pick up my interfacing on Friday and then I can work on finishing it up
11. quilting bee blocks:
Color Bee Nov
, Color Bee Dec, Simply Modern ALL, Creative Blocks Nov, Creative Blocks Dec.
12. last pillow for the living room
13. make 2 other garments for me
Made a black skirt (not blogged) and bought fabric for a Christmas dress (pattern picked out, just tracing)
14. Reagan's birthday dress and accessories
fabric selected, pattern picked out...working on tracing my pattern pieces
15. one other project (
it's a surprise)
Making really good progress on this one.
16. Megan Nielsen's Banskia Top for the sewalong
17. chalkboard frame project
Honestly, not sure if this one'll get done since I decided to add something else. Maybe I can just replace this one???
17. Make Christmas stocking holders.
18. re arrange kitchen cabinets (aka Reagan proofing)
Started. Need to get the safely locks for them.
19. (NEW) Thanksgiving Outfit for Reagan
fabric selected, pattern selected..working on tracing my pattern pieces
Not bad. I'm getting there. You can go HERE and HERE to read my previous posts about the Hustle. Six of them are completely done... several others are almost done... Hmm... I gotta get working.
Here's my plan of action:
Trace patterns over the weekend (if I'm lucky)
Monday--finish up Tula Pink Quilt
Wednesday/Thursday--Reagan's Thanksgiving outfit
Friday/Saturday/Sunday--weekender bag
(in between, work on Reagan's alphabet blocks and small projects)
What do yall think? I'm personally kind of setting Christmas as my goal since a lot of these are more Christmas related...
How's everyone else's sewing coming along? Hard to believe how quickly this year is moving by!