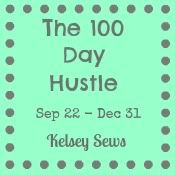 I'm linking up my final Hustle list over at Kelsey Sews!
1. Finish my lemon bars quilt from Fresh Lemons -
All blocks are completed and squared done. I've started piecing them together.
2. Finish my Tula Pink quilt (no pictures yet)
This is the quilt top!
3. Make a dress for a wedding we're attending in October
Sorry it's not a full picture of the dress but I love this picture from the wedding!
4. Reagan's Christmas dress
I made BOTH our Christmas dresses! Not the best picture of our dresses but a cute picture of us in them!
6. Reagan's stacking rings for birthday gift - almost done! We'll count it!
7. Reagan's quiet book for birthday gift- almost done, too!
8. Alphabet softies for Reagan's birthday - haha! this one didn't happen! at least not for now!
9. Finish my white cardigan (no pictures yet either...its in the wash)
11. quilting bee blocks: Color Bee Nov, Color Bee Dec, Simply Modern ALL, Creative Blocks Nov, Creative Blocks Dec.
12. last pillow for the living room (I don't have a picture so I'm sharing my Christmas pillows picture instead!)

13. make 2 other garments for me: Christmas dress, black ruffle skirt, Christmas top
my Christmas top here!
14. Reagan's birthday dress and accessories - cut out and ready to sew up!
15. one other project (
it's a surprise)
16. Megan Nielsen's Banskia Top for the sewalong (no pictures yet)


17. chalkboard frame project
Honestly, not sure if this one'll get done since I decided to add something else. Maybe I can just replace this one???
17. Make Christmas stocking holders. - didn't happen! I just tacked them to the wall this year since we didn't have a good place to make them.
18. re arrange kitchen cabinets (aka Reagan proofing)
19. (NEW) Thanksgiving Outfit for Reagan- OOPS! made them too big so they're still sitting in my sewing room! BUT, I did make Reagan a Thanksgiving skirt, a bow, and a Christmas skirt! We'll count it as a win!

Things I made that weren't on my Hustle list: 6 kitchen aid covers, five drawstring bags, an SC Pillow and cover, two Christmas pillow covers, and a pillow for the Pillow Talk Swap.
Not bad. Of the 19 things on my list, I had only three that aren't done (and two that are sort of half done since I'm sewing frantically to get them all done up!).
I'm working on an end of the year post with pictures of everything I've made this year on it! You'll have to look it over and see if you can spot my Hustle list!