This year, I signed up for a few more sewing and quilting commitments! My sewing/quilting journey has been a fun one this past year, with lots of learning experiences. In 2013, I want to continue to grow and improve, and have fun with it! I love blogland and
flickr
because it really allows me to connect with other sewists and quilters! This year, I'm joining in with some fun through both.
Here's what all I've committed to (and hubby, please don't wince!)...
1.
Simply Solids Bee
: a fun bee that my sweet friend, Erin at
Sew at Home Mummy
, organized with over 100 quilters! I'm in the Viridian group... Viridian means blue-green! Erin organized us all by location and named us after colors! I'm the queen bee in July, so that'll be great. Otherwise, it's one block a month.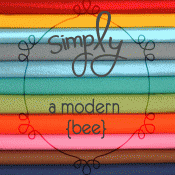 2.
Imagine do.Good Stitche
s: I was invited by Rachel at
Stitched in Color
to join do.Good stitches! It's several circles that form a charity bee. I'm in the Imagine Circle, and am excited to join this group of ladies. I'm the queen bee in June, which'll be fun! I'm signed up as a quilter so I'll actually be putting together a quilt to donate to
Project Linus
.
3.
Skill Builders BOM
: I decided to join in with a Block of the Month club! It's being hosted by one of my favorite quilting bloggers,Alyssa at
Pile O' Fabric
, and it's called the
Skill Builders Block of the Month Club.
Each month, she's doing a different skill with the block, and will have video tutorials, etc. I'm really excited to learn a few new skills, especially the foundation paper piecing!
4.
Farmers Wife Quilt Sampler
: My mom and I decided that we are going to take on the
Farmers Wife quilt sampler
together this year. We decided to start in February, and do ten or so blocks a month. We're both doing the same fabric collection, although we'll probably piece the colors together different, so they'll coordinate but still be different. The fabric we've selected is one that I'm super excited about it.
It's called Color Me Retro by Jeni Baker at
In Color Order
. It's being manufactured by
Art Gallery Fabrics
and comes out in February.
this is a gorgeous farmers wife that I found on Flickr
5.
Pantone Color of the Year Challenge
: hosted by
A Squared W
, this challenge is to create something using the Pantone Color of the Year. It ends in March. This year, the color is Emerald, which is a stretch for me! That's partially the reason why I'm joining in. That, and it'll make a great gift for a friend.
I'm continuing with a couple bees from this year:
6.
Simply Modern Bee
: which I've made all my blocks for but will be collecting mine in February. It's a 6 month bee, so it's supposed to end in April.
7.
Creative Quilt Blocks
: I've made three blocks for already, and have the next block to make here at home. I'm hoping to tackle it this weekend.
8.
Color Bee Shocked
: this continues until October, so it'll end at a good time for me. I've really enjoyed this bee quite a bit, so I'm almost hoping well all decide to continue it.
There are a couple other block of the month clubs out there that I'm really tempted to do but I think I may call it good! I've certainly got a lot going on, that's for sure! It's so much easier now to do the fun stuff, since I'm much more confident in my abilities to do them or to figure it out.
Clearly, the sewing and quilting bug has bitten more pretty thoroughly!