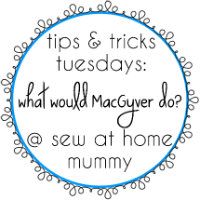 Good morning yall!! This week, I'm hosting for my friend,
Erin at Sew At Home Mummy
with her weekly linky party! I'm so excited to welcome yall to Sew Happily Ever After! I'm a teacher turned working professional, mommy to beautiful Reagan, and sewing/quilting addict!
Here are my lovely little helpers!
My mom made the beautiful Dr. Seuss quilt for Reagan's 1st birthday, and it's already a well loved quilt!
Today, I wanted to talk to you about what it means to being an organized quilter and/or sewist, especially in a digital era. How many of you use digital patterns or ideas from Flickr or Pinterest? Okay, now that we've all raised our hands.... How do you keep track of it all? Especially once you've printed out your patterns?
I personally keep my digital files and pdf pattern pieces organized in two specific places. The first place is on my computer. I have a folder called "Sewing Stuff" (original title, I know). In it, I have mini folders that are labeled, and everything (for the most part) goes into a folder.
It's a little small but you can see that there are folders divided into Aprons & Kitchen, Bags, Children's Patterns, Home Sewing, Quilting Stuff, Women's Sewing.
Once I've printed out sewing and quilting patterns, it's hard to know what to do with all the paper pieces. For a while, I had all these random pattern pieces shoved into a drawer. Obviously, that was NOT an effective way of organizing my patterns. Being the good little teacher that I am, I made myself a binder. I prettied it up, but the important part is, that I have dividers that match the dividers on my computer. Wanna see? Okay, you got it!
First thing in my notebook is a pad of paper (already hole punched) so I can write down ideas, thoughts, and notes. Then, I have my trusty Kona color card! Gotta have that handy! I love that it comes already hole punched. Makes it easy peasy!
This is what my dividers look like. I didn't have any clear full page ones, so I just used the colorful half page insert ones. It works for now. :) It kind of makes the colors look a little weird, but my label sheets are green and pink.
For some of my pdf patterns, I've printed out all of them. So, I went ahead and hole punched the directions and put those in first. Then, I put a page protector right behind the directions. In the page protector, I'm storing the pieces for the patterns. It keeps them all together.
So, my tip is to keep all your paper and PDF / digital sewing and quilting items organized. It'll make them much easier to use on a regular basis! And it doesn't take too long to put together! :)
What's your tip, trick or tutorial this week? I can't wait to see what yall have put together!
Please show each other some love! head on out and visit a few others who have posted tips and tricks, and leave them some love!