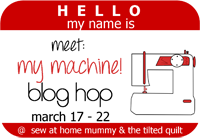 Hey yall! Welcome to
Sew Happily Ever After
! For those of you coming by from
Erin
and
Stacey's
fabulous blog hop, grab a cup of coffee and sit down a while. Today, I'm sharing about my beloved sewing machine, and I have A LOT to say about it! So go grab a cup of coffee and join me for a little while! :)
First of all, meet Lizzie. She just turned one this past Christmas, and we couldn't be happier!
Lizzie is a
Babylock A Line Series "Elizabeth" model.
The Elizabeth model (BL200A) is considered a "sewing" machine by Babylock (they also have embroidery, quilting, long arms, and sergers). This is how Babylock describes the Elizabeth:
"Elizabeth is multi-talented and great at everything she does, and she's ready to share all her secrets with you. With 178 stitches, automatic needle threader and drop in bobbin, this feature-packed machine sure has a lot to say! Elizabeth can help you make a statement with every project, from home décor to accessories and garments. But don't be intimidated - with push button features, knee lift and extension table, count on Elizabeth to help make any project easy and successful."
There are a TON of features on my Lizzie, and to be honest, I probably don't know or utilize all of the features as much as I should. One of the things that I love about this machine is that it will do a little bit of everything: sewing, piecing, quilting, garment sewing, embroidery, etc. It's a great all purpose machine. One thing that I LOVE about it is the button holes and button sewing. It takes just a couple of minutes, and they look gorgeous - and let's face it, I loathe hand sewing. I use a lot of the fun stitches for some of my quilting, especially this wavy line. It's one of my favorites. Babylock loaded this machine up with 178 stitches, and they can almost all be slightly altered, whether it's the height or width of the stitch. I do some quilting on Lizzie, but it's a little bit of work because she's not really designed to do heavy quilting. If a quilt is larger than a twin, I won't do it on Lizzie. It's just too much of a struggle. I've used the walking foot several times but honestly, I prefer to use a regular foot to quilt. I have more control with Lizzie if I do it that way. And that's totally okay! There's not a whole lot that I'd add to Lizzie, mostly because she does so much already. Lizzie came with lots of fun accesssories - 13 different feet. There are 28 other feet that you can purchase to go with it. Slowly, I've been collecting some (thanks to my family for supporting my addiction hobby at the holidays). Here are the extra feet that I have.
I'm currently eyeing this foot, the
Pearl & Piping Foot
.
I can see all sorts of fun projects to use, but I love the idea of a foot to help make binding. You can do it in other ways, but, this'd make it easier.
Two of my favorite things about Lizzie are this little compact drawer on the front part of her - it stores the feet that came with her, and the tray is removable, so I've got my walking foot, screwdrivers, etc. in it. It's very practical to have those right at hand. I also love this clip on chart that came with Lizzie. It's a cheat sheet with all of the stitches and programming that come on her. How fabulous is that?
Lizzie's a fairly compact sewing machine. She's easy to cart around (if I wanted to), and fits beautifully on my desk (former vanity). I love the bright kelly green accents on her!
How did Lizzie and I get together? Well, Lizzie was a gift to me from my mother and father in law two Christmases ago - just before Reagan was born. When I found out I was pregnant, I turned a little
hormonal
nostalgic, and wanted to learn to sew. My mom had made clothes for my brother and I growing up, and I wanted to do the same for my child. My mother in law is an amazing seamstress, and when she found out I wanted to sew, she did tons and tons of research on machines, and selected Lizzie for me. We spent a few days over Christmas at their house, and my mother in law and I played together learning how to make Lizzie go. It was so overwhelming and exciting! Two weeks later, I was put in the hospital.... well,
you can check out Reagan's birth story here
... but to make it short, Reagan was born early! We spent the next six weeks in the NICU with her, but during that time, I made myself sit down and sew. Mostly, I did this to keep my mind busy. Learning something so completely foreign is hard work, and it did the trick. One of my very first projects was to make a boppy cover for our boppy pillow, and to make Reagan a bed skirt. I bought fabric from Joanns, and found some online tutorials, and I was off and running. I became hooked on sewing, and over the next few months, it became my outlet for everything. Truly, sewing became my go to stress reliever, my therapy, and my hobby.
So, Lizzie is, of course, my very first (sewing machine). Currently, she is the only one that I own, although, I do have my sights set on a serger. They really intimidate me, but I think I'd love to have one to make my garment sewing much easier and more professional looking. I've heard good things about the Babylock serger from friends, so maybe someday. In the meantime, I'm hoping to save up for a Brother serger (to learn and practice on before I invest in a Babylock).
Want to see where I sew? Here's my space.... It's a patio room that I share with the dog. Yup. She's great company, and it's right off of our family room, so I'm still right there with the hubby and Reagan. Lately, though, we've had to baricade my space off from Reagan because, well, she likes to play with the pedal and fabric and be just like mommy. I recently re arranged my furniture, and it's completely inspired me to get moving with some projects that have just been sitting around. I use the storage room for some of my extra fabrics, so it's still shoved in a few spaces, but that's alright.
On the wall above my desk, I have some prints and a
mini quilt
from
Jan
. I also have a small cork board (covered in fabric - what else?) with notes, etc. on it! I've got fat quarters and fabrics under a yard on this shelf, and on top of it are bolts of fabric greater than 1 yard. I have books and patterns on the top shelf with some apparel fabrics, and more patterns down below. I have all my solid scraps in this cardboard box, and my charms and quilting bees work on the very bottom. On the small shelving stand, I have more apparel fabrics (as well as in the closet). Scraps that haven't been sorted go in the huggie box under the desk. Next to my sewing machine, I have a doll from Hawaii that my parents gave me years and years ago, my name plate from
Girls Night Out: Charlotte
(which conveniently holds my tiny scissors and my seam ripper), and my pretty pin cushion from
Jan
! It's a crazy space, and I have a lot going on - but it's my little room.
Today, I consider myself a confident beginner! I'm not afraid to try anything when it comes to sewing and quilting. I conquered the Amy Butler Weekender Bag (go
here
and
here)
after only sewing for 7 months and quilting for 2. I have no fear (besides birds - but that's a story for another day). Currently, I just started to work on my farmers wife quilt ( you can go here to read more about it), and I've got some clothing planned for the spring for myself and Reagan.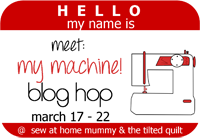 Hope yall had fun visiting and learning a little bit about my machine, my sewing space, and me! Be sure to follow my blog because I'll be doing a little giveaway next week! :)