Hey yall - I know, I know - it's been a bit a lot quiet here lately! I'm finally starting to get my self all caught up from getting back into the classroom! Hubby is still traveling lots but Reagan and I are slowly adjusting. I have been sewing some but it's come down to sewing or blogging some days, and well, I'd rather sew! Sorry yall!! :) I still love yall!
However, I recently ... Okay, really more like a few months ago, discovered a new Indie pattern company out of London called "
By Hand London
". Y'all, I fell for their fresh takes on classic styles. I finally bit the bullet and ordered two of their patterns from an Etsy store in MA. I really didn't want to order from
London
...due to international shipping and the currency exchange rate. I bought the
Elisalex Dress
and the
Charlotte Skirt
. I have been trying to find the perfect pencil skirt pattern for some time now, and I love making dresses!
Elisalex pattern
. But, I didn't want to make my first one out of super nice fabric. So today, I'm showing yall my wearable muslin! Don't worry, I'll share that one soon! I shopped entirely from my stash to make my muslin - I used some home dec weight fabric from my favorite
Anna Maria Horner's line, Innocent Crush
(you can find it
here
) - Turn of Events in Azule. Everything about this fabric is me - the floral, the blues, and the uniqueness of the print.
I love a pattern that I can adapt to me - but that written on its own fits my lifestyle. I'm a girl who can usually be found in dresses, skirts, leggings, and tunics. I like pieces that I can layer up with a cardigan or a jean jacket, wear with a belt or cowboy boots, and that still works with a chunky necklace or dainty pearls. This dress does it all!
Project Sewn
and sharing my Signature Style!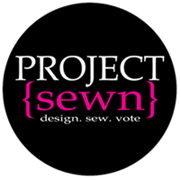 Be sure to check out the other fabulous ladies!!
Aaaaannnnddd, since no post would be complete without a cutesy picture of Reagan... who is also sporting her signature style - dress, leggings, and bow! :)
I'm also linking up with one of my favorite linky parties -
The Train to Crazy: Make it Wear It.